Wentzville Swimming Pool Fence Services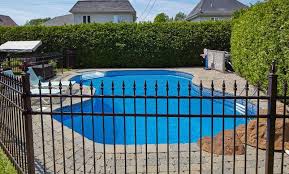 Fencing around your swimming pool is essential for safety and security. Our swimming pool fencing is made from the highest quality iron on the market, and undergoes a multi-step process to make it weather and moisture resistant so it will last for years to come.
Additionally, our swimming pool fencing is designed to be climb-resistant with crossbars out of reach for small children to be able to gain leverage to climb over it.
Unless a watchful eye is on them, you want to keep pets and small children away from your pool. A sturdy swimming pool fence is perfect for that.
Wentzville Fence & Deck are experienced swimming pool fencing experts. We pride ourselves our the quality of our swimming pool fence installation and are Wentzville, MO's #1 swimming pool fence contractors for a reason.
If you need swimming pool fence installed at your residence or place of business in Wentzville, O'Fallon, St Peters or the surrounding Missouri areas, get your free quote from us by calling 618-248-4884
OR
Fill out the instant quote form on this website to receive your free quote. No hassle, up front pricing, and quality service from Wentzville Fence & Deck for all your swimming pool fencing needs.