Wentzville Gate Installation or Repair Services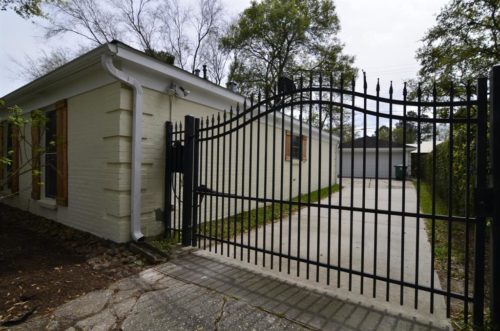 Nothing provides safety and security with an air of elegance and refinement to a home better than a customized gate installation from Wentzville Fence & Deck.
Your gate is the first thing visitors to your home will see. It makes sense to make a good first impression. It also makes sense to seek the peace afforded by the security a quality gate installation affords.
Wentzville Deck & Fence can handle any type of gate installation. We install:
Motorized gates
Swing gates
Overhead gates
Sliding gates
Retractable gates
Wentzville Fence & Deck also works with gates made from any material, whether iron gate (that goes through the same rigorous manufacturing process our iron fencing goes through), wood gate, chain link gate, aluminum gate, or steel gate, Wentzville Fence & Deck offers full-service installation for your new gate.
A high quality gate can be a great addition to your home or business. If we can help you with your new gate installation, please contact us and let our friendly staff provide you with a free quote. Call us at 618-248-4884 
You can also fill out the form on this site and one of our gate contractors will call you back soon.
If you're in the market for a new gate in Wentzville, O'Fallon, St Peters, Warrenton, Troy, or any of the surrounding areas please give us a call or fill out an instant quote form and let us help you.
Wentzville Fence & Deck is your local, go-to gate installation expert for Wentzville, MO.