Vinyl Fencing Company in O'Fallon, MO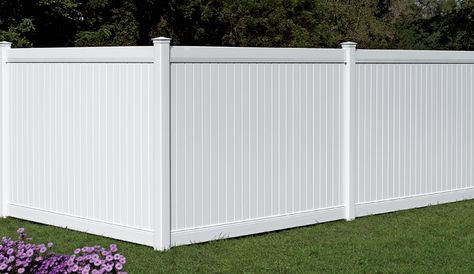 A new vinyl fence is a beautiful addition to any home or business that instantly adds value to your property and will literally last a lifetime.
One of the benefits of building a new fence with vinyl material is the longevity you can look forward too over wood. Vinyl fencing does not rot, does not fade, and will not attract pests like those that plague a wooden privacy fence.
While you can count on a quality wooden privacy fence to last 15 to 20 years, you can look forward to enjoying a vinyl fence for 50 years.
Many of our customers believe the higher price of a vinyl fence on the front end pays off in the long run because of the low maintenance of a vinyl fence and the lifespan of vinyl fencing.
A vinyl fence never has to undergo a staining and sealing treatment. If it gets dirty, a couple of sprays with the water hose is generally all your need to get your vinyl fence looking like new again.
At Wentzville Fence & Deck Company, we offer full service installation and repair for your vinyl fence in O'Fallon, MO and the surrounding areas.
We also offer a warranty for any vinyl fence we install. When you hire Wentzville Fence & Deck Company to build a new vinyl fence for your, you're tapping into a dense talent pool of quality fence and deck craftsman that make us the best fence company in O'Fallon, MO.
If we can assist you with a consultation and estimate for your new vinyl fence in O'Fallon, please give us a call at 636-206-7781. Our friendly fence contractors and deck builders would love to help you with your vinyl fence.
Give us a call today or fill out the instant quote form on this website. Let us build you a new vinyl fence in O'Fallon, Dardenne Prairie, Wentzville, St Peters, St Charles, Lake St Louis, or the surrounding areas.