Wentzville Chain Link Fencing Services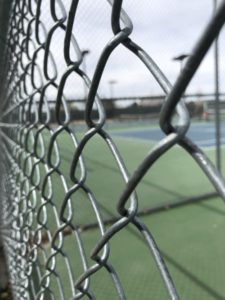 Chain link fencing is one of our popular options in the Wentzville, MO area. A Chain link fence installation is a favorite choice of many of our customers because chain link fencing is affordable, durable, and transparent.
Our chain link fence is manufactured with the Wentzville, MO weather in mind. All of our chain link is galvanized to protect against rust and, once installed, will literally last a lifetime.
A chain link fence installation is perfect for customers looking to keep pets and kids safe while also retaining the ability to keep an eye on them from the other side of the fence.
The standard color for our chain link is galvanized gray, but other options include polished silver, black, or green. The black and green chain link is covered by a colored protective film that adds another layer of weather resistance to your new fence.
You may also ask your fencing contractor about different gauges of chain link available if you'd like something even more durable than standard chain link fencing.
If we can help you with your chain link fencing or fence repair, please contact us for a free quote at 618-248-4884
You can also fill out the free instant quote form on this website and a representative will get back to you quickly.