Dog Run Fencing Contractor in O'Fallon, MO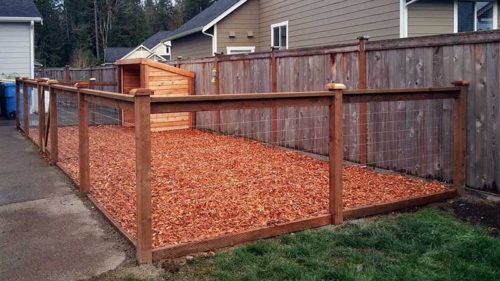 Keep your pet in O'Fallon, MO safe and secure with a custom dog pen installation from Wentzville Fence & Deck Company.
Many of us have experienced a time when we left our pet in the backyard for a time only to come home and realize they'd dug under the fence or found some other way to get out and run away. It is so sad when you lose a pet due to it running away or because it managed to run into the roadway and get hit by a car.
Nobody wants their family to experience the pain of the needless loss of a pet. One way to ensure your family doesn't have to experience that is by investing in a custom built structure precisely designed to keep your pet safe.
Our dog run fencing is installed with your pet's security and happiness in mind. We work hard to ensure your pet will be able to enjoy the outdoors while you're at work or running errands, and you'll be able to enjoy having the peace of mind that comes with knowing your pet is safe.
Your pet is a member of your family. Trust us, we understand. Because you love your pet, you will love your investment in dog run fencing or a custom dog pen built by the dog run fencing contractors from Wentzville Fence & Deck Company.
Schedule a free consultation today at 636-206-7781
Let our friendly dog fence contractors help you today.